The Luxembourg Chess League 2017/18 is over, with a final round on 25 March in Differdange which brought together all the participating teams for a colourful gran finale (RTL).
The balance for Gambit teams is mixed. Despite a fierce fight, Gambit Bonnevoie I was not able to defend our Luxembourg champions title, which returned to the Echternach team of the Luxembourg all-time-best GM Alberto David and chess legend GM Robert Hübner. Congratulations to Echternach for dominating this season! The clear second place gained by our players ahead of Dudelange qualifies us for the European Chess Club Cup in Porto Carras (Greece) later this year.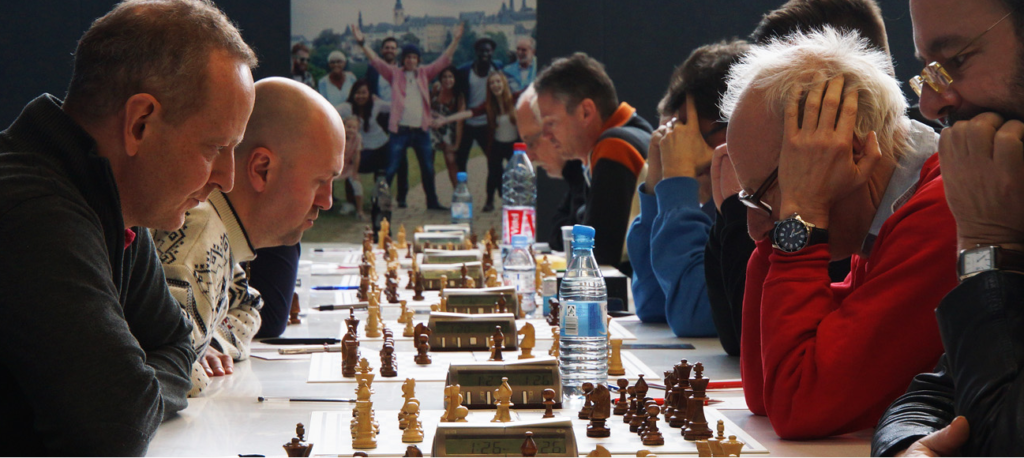 Gambit I (left) Dishman and GM Tratar facing Echternach in the final match (photo: www.lecavalier.lu)
Gambit II had to admit the superiority of Differdange II and finished third in the Promotion d'honneur, missing the chance of promotion to the highest division. Our players could not overcome the merciless laws of statistics reflected in an average Elo difference of 180 points.
The other Gambit teams gained significant experience for the next season, with our young players making good progress and putting into practice what they have learned so far.