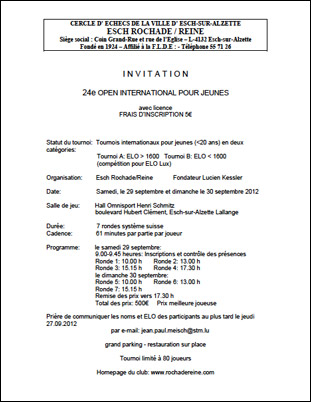 Le week-end prochain (29 et 30 septembre 2012) la 24ème édition du Open International pour Jeunes organisé par le club d'échecs Esch Rochade/Reine aura lieu à Esch-sur-Alzette. Le tournoi consiste de 7 rondes suivant le système suisse et les résultats comptent pour le calcul d'ELO.
Inscriptions jusqu'au 27 septembre par e-mail: jean.paul.meisch@stm.lu
Vous trouverez tous les détails dans l'invitation.
—
This weekend (29th and 30th of September 2012)the 24th edition of the Open International for Youth organised by the chess club Esch Rochade/Reine will take place in Esch-sur-Alzette. The tournament consists of 7 rounds following the swiss system and the results count for the national ELO calculation.
You can enroll until the 27th of September by sending an e-mail to: jean.paul.meisch@stm.lu
You will find all the details in the invitation.